100 Solutions : l'excellence de l'innovation européenne
The Arch est à l'origine d'un appel à solutions en faveur de la transition écologique, lancé à l'été 2022. Mis en œuvre par Atlanpole Nantes et les deux réseaux European Business and innovation centre Network (EBN) et International Association of Science Parks and areas of innovation (IASP), cet appel à projets concerne 5 thématiques : Energie, Santé & Alimentation, Habitat & Ville, Mobilité, Energie et Industrie & Numérique.
Les critères de sélection : les solutions doivent être économiquement viables, durables et réplicables.
100 solutions de 18 pays sont ainsi sélectionnées.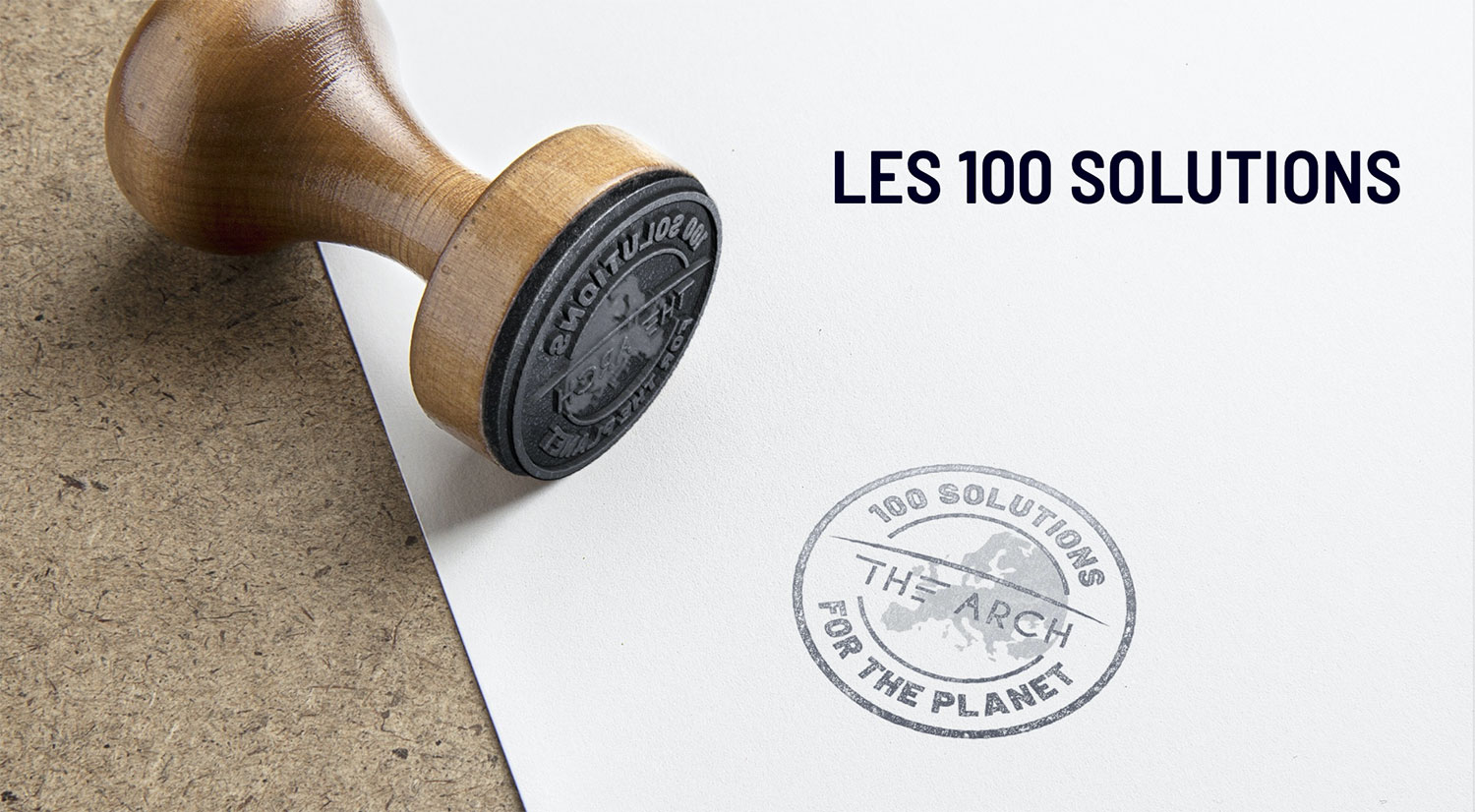 « Il a fallu expliquer aux têtes de réseau le concept The Arch. Il n'était pas question d'avoir des projets déjà sur l'étagère, ou le concours Lépine. Nous voulions des projets bien élaborés, avec un prototype et un business model », précise Jean-François Balducchi, délégué général d'Atlanpole. « Il fallait que le projet respecte un niveau d'innovation tangible, qu'il soit porté par une équipe avec une entreprise ou un projet d'entreprise derrière, qu'il soit ambitieux avec un impact sur la transition écologique en apportant des solutions au réchauffement climatique, et enfin qu'il ait un business model et une facilité de déploiement dans un avenir pas trop lointain. »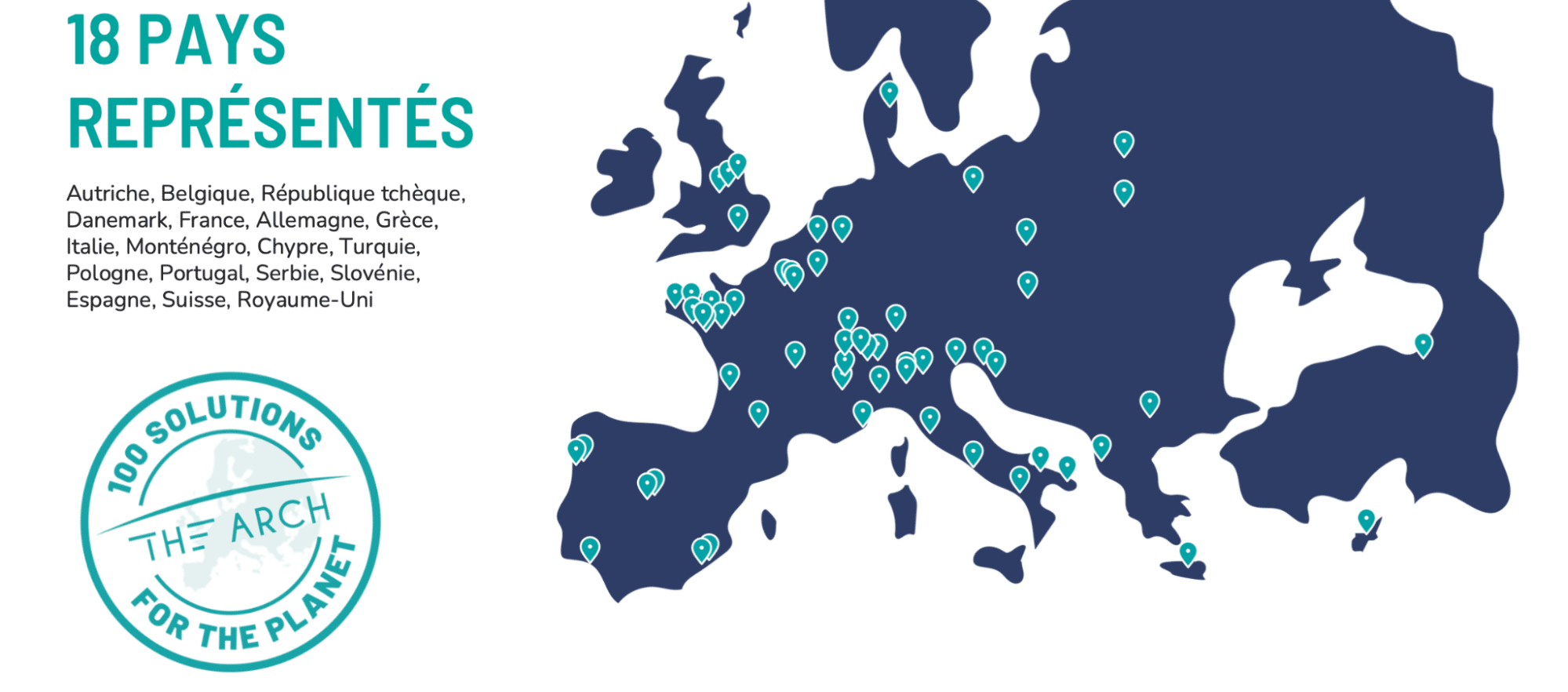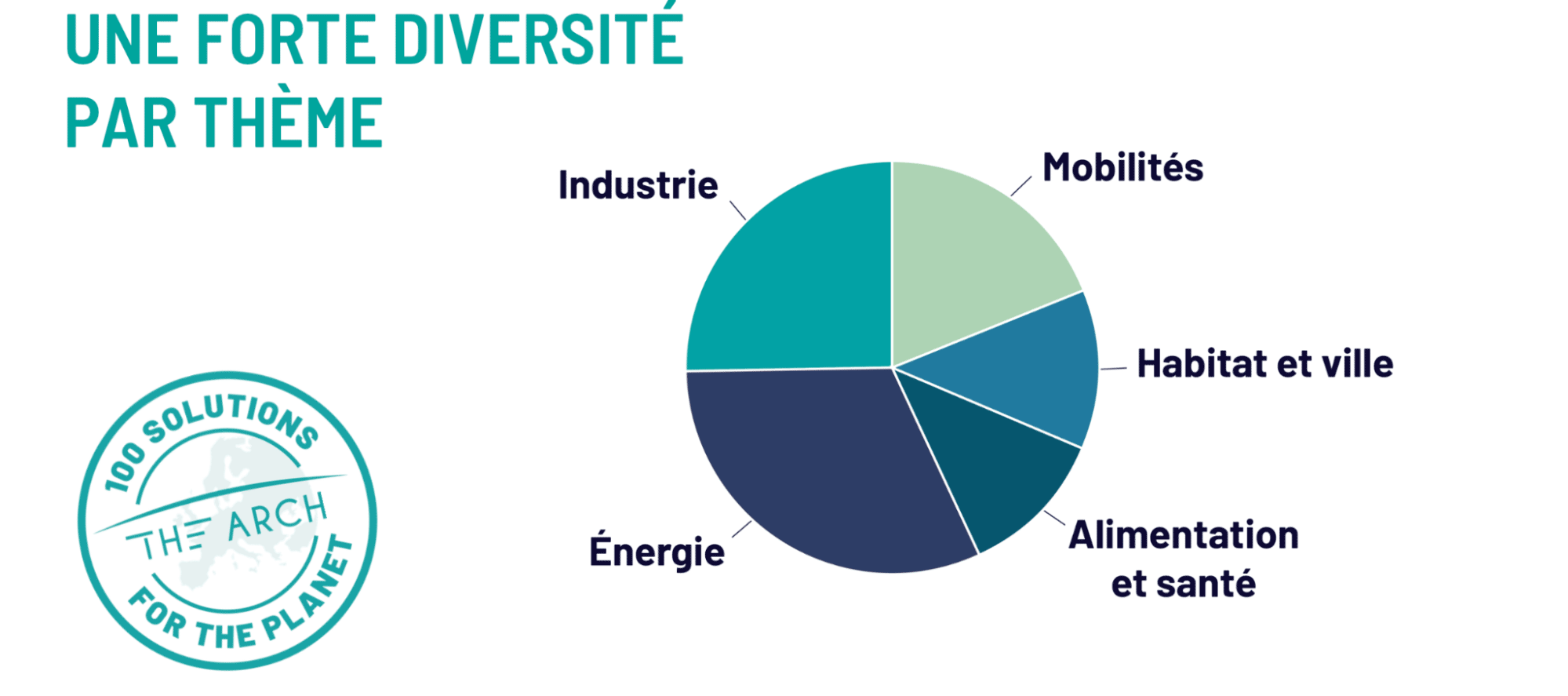 La liste des 100 solutions
| | |
| --- | --- |
| Nom du projet | Pays |
| Caeli Energie | France |
| Canonical Green (Smart Shipping) | Spain |
| Stress Scarl HZEB | Italy |
| Sinergy Flow | Italy |
| Minervas | Italy |
| MyGreenApp | Portugal |
| Visionnary Hospitality | Spain |
| Neolithe | France |
| DG Twin | Italy |
| Greenov-Ites | France |
| AYRO | France |
| BeFC | France |
| Agrobiogel GmbH | Austria |
| Equium | France |
| Vital Meat | France |
| CarbonWorks | France |
| Aquawize (AI4Water) | France |
| Is Clean Air Italia | Italie |
| DENV-R | France |
| Crop Intellect | United Kingdom |
| Reeverse | France |
| Cap Top | Italy |
| CLHYNN | France |
| WattAnyWhere SA | Switzerland |
| SABI AGRI | France |
| Mold S.r.l. – The River Cleaning Project | Italy |
| Sealence Spa SB | Italy |
| HELIUP | France |
| X-Sun | France |
| D-ICE | France |
| Nosh.bio GmbH | Germany |
| GEMSTAR srl | Italy |
| Leviathan Dynamics | France |
| Synoxis algae | France |
| REOL | France |
| SAKOWIN GREEN ENERGY | France |
| WISAMO MICHELIN | France |
| AGLAÉ | France |
| Blue Ocean Upcycle Marine Boat | France |
| KIS Studio | Belgium |
| Green Impulse | France |
| Terroir from Space | Italy |
| ACT Blade Europe | Italy |
| Enerdrape | Switzerland |
| Space Farmers | Spain |
| Refact (Induo) | France |
| LATITUDO 40 | Italy |
| Ocean Blue Reef | Spain |
| CEDRION | Spain |
| Avenir Acier | France |
| Ecorbio | Cyprus |
| HEOLE | France |
| ISUSCHEM | Italy |
| Leaf Inspiring Change | Switzerland |
| Unik Innovation | Italy |
| Bysco | France |
| Flaxib | France |
| Pin Bike (FB Innovation) | Italy |
| Chrysalis (Earthwake Entreprise) | France |
| WaltR – [AI]Roads | France |
| OPTIMEESE™ (Mobileese) | France |
| BiomiTech | France |
| Revolte | France |
| Qairos Energies | France |
| Lisaqua | France |
| HySiLabs | France |
| Etsol Engineering | France |
| Food Index For Good | France |
| Healthy Brains for a Smart Planet | France |
| Kelvin Green GmbH | Germany |
| Syroco | France |
| Teti srl | Italy |
| VERNE | Poland |
| Smart Volt | Montenegro |
| Carbon Neutral Petrol Ltd | UK |
| Radium Energy Sp. z o. o. | Poland |
| Veos DigiWatt | Italy |
| Deagle srl | Italy |
| Snazzybird Ltd | UK |
| PHILEOLE | Belgium |
| Urban Tree Offset Initiative | Czech Republic (Czechia) |
| SEAVIS | Denmark |
| Hydros Power | Spain |
| Cilo | UK |
| Volvero | Italy |
| Tech4MED | Portugal |
| CO2NVERT | Italy |
| Life-Compolive | Spain |
| Beehold | Serbia |
| Iceless | Italy |
| Terra Innova | France |
| Fonto de Vivo | France |
| PrioV2X | France |
| ETESIAS | Italy |
| COOL ROOF France | France |
| MHT ARGE GIDA SAĞLIK DANIŞMANLIK SANAYİ VE TİCARET LİMİTED | Turquie |
| OTONOHM | France |
| Beyond The Sea | France |
| SYMONE | France |
| DAUDI Compotesko | France |
| SEA Proven | France |
| BEAIR | Italy |
| ENCO | Italy |
| OPAT (GEOMATYS) | France |
| Terrabuilding Design | Italy |
| Circular Fiber | Italy |
| Demio | France |
| Komposta | Italy |
| Alegina | France |
| Terra Cool – Nantes University | France |
| Gwilen | France |
| Hawila Project | Denmark |
| CIXI | France |
| Circularity | Italy |
| KASOFOR – Fondem Energies pour le monde | France |
| Eurovert (G-EMIT) | France |
| California Innovation Group (CIG-IT) | Italy |
| Falepa Corsica | France |
| Emergence Solar | Suisse |