100 SOLUTIONS: EUROPEAN INNOVATION EXCELLENCE
The Arch is behind a call for solutions for the ecological transition, launched in the summer of 2022. Implemented by Atlanpole Nantes and the two networks European Business and innovation center Network (EBN) and International Association of Science Parks and areas of innovation (IASP), this call for projects concerns 5 themes: Energy, Health & Food, Housing & City, Mobility, Energy and Industry & Digital.
The selection criteria: solutions must be economically viable, sustainable and replicable.
100 solutions from 18 countries have been selected.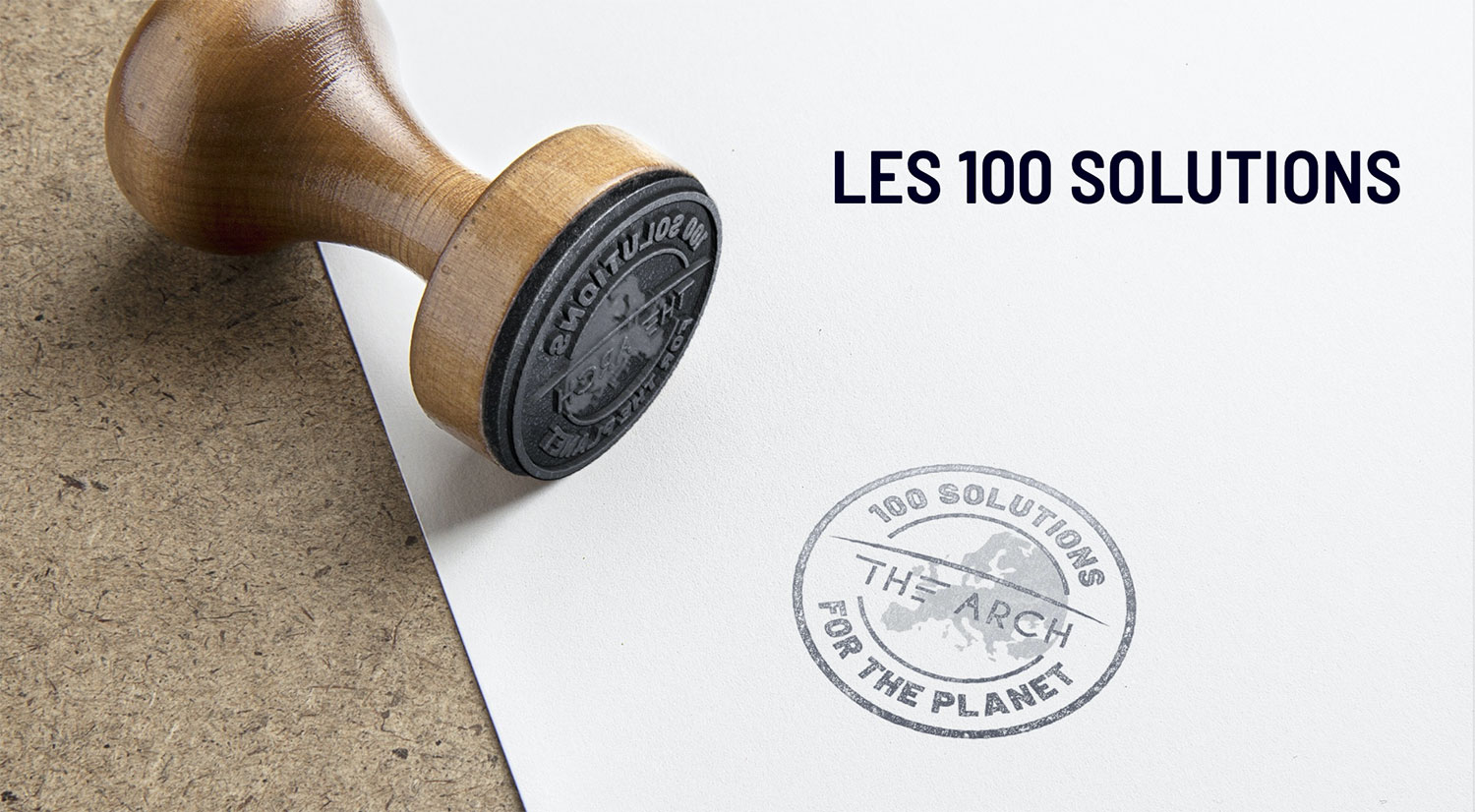 "We had to explain the concept of The Arch to the network heads. There was no question of having projects already on the shelf, or the Lépine competition. We wanted well-developed projects, with a prototype and a business model," explains Jean-François Balducchi, Atlanpole's general manager. "The project had to respect a tangible level of innovation, it had to be carried by a team with a company or a business project behind it, it had to be ambitious with an impact on the ecological transition by providing solutions to global warming, and finally it had to have a business model and ease of deployment in the not too distant future."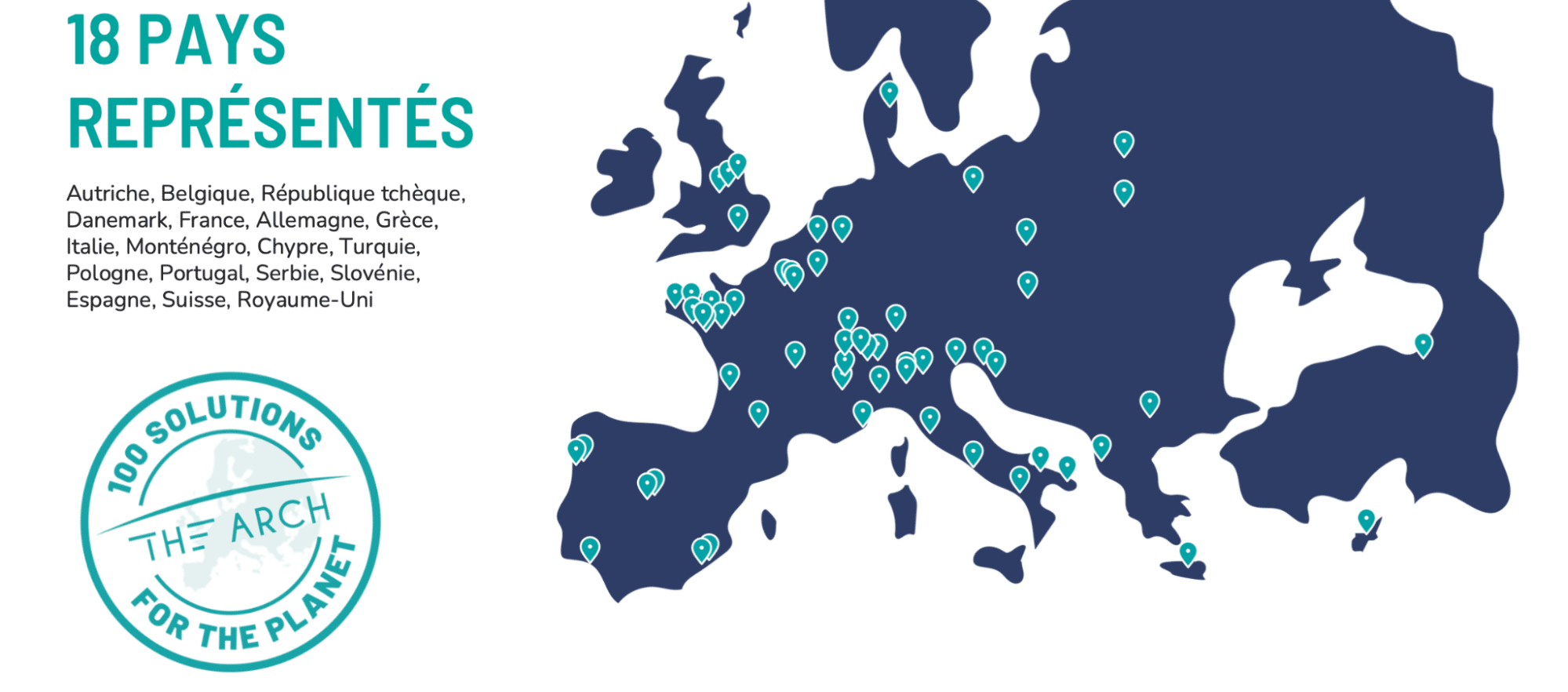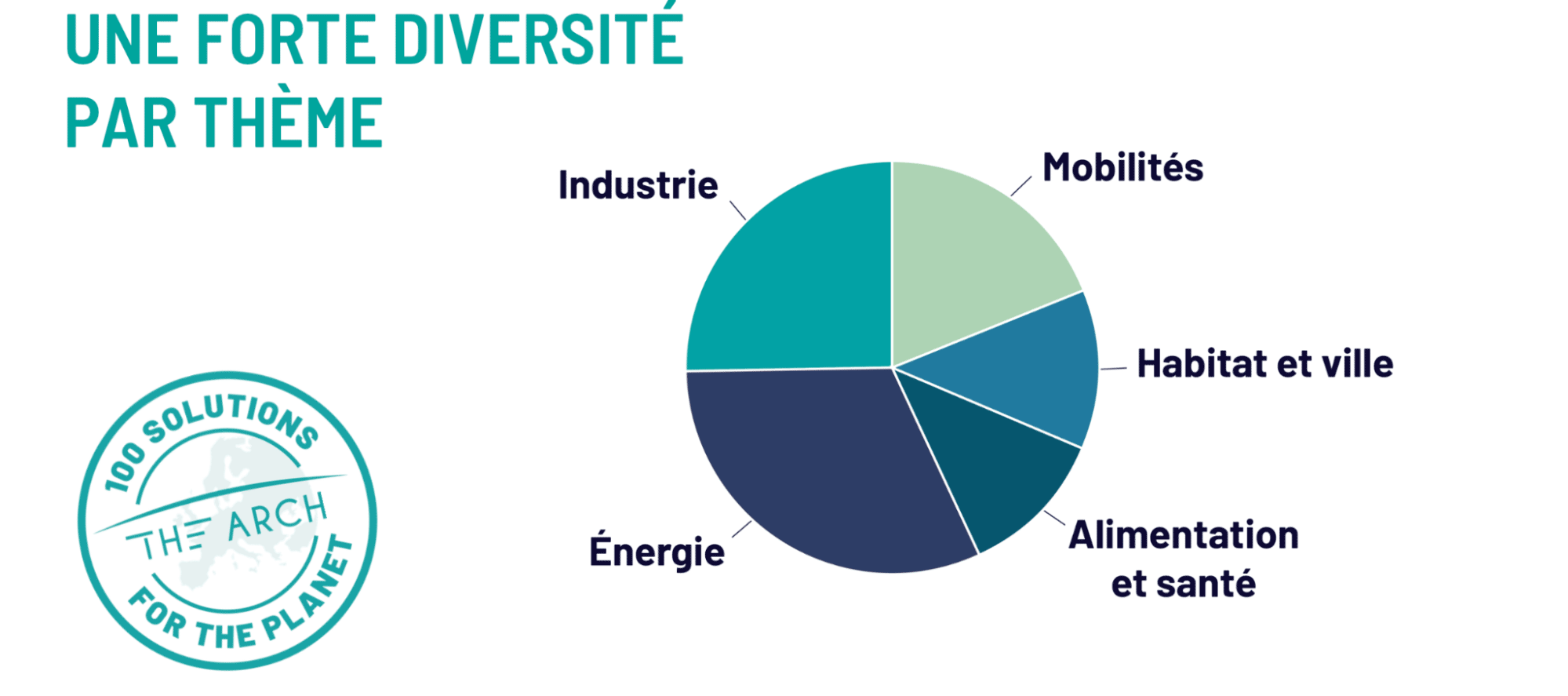 THE 100 SOLUTIONS LIST
| | |
| --- | --- |
| Name of the project | Country |
| Caeli Energie | France |
| Canonical Green (Smart Shipping) | Spain |
| Stress Scarl HZEB | Italy |
| Sinergy Flow | Italy |
| Minervas | Italy |
| MyGreenApp | Portugal |
| Visionnary Hospitality | Spain |
| Neolithe | France |
| DG Twin | Italy |
| Greenov-Ites | France |
| AYRO | France |
| BeFC | France |
| Agrobiogel GmbH | Austria |
| Equium | France |
| Vital Meat | France |
| CarbonWorks | France |
| Aquawize (AI4Water) | France |
| Is Clean Air Italia | Italie |
| DENV-R | France |
| Crop Intellect | United Kingdom |
| Reeverse | France |
| Cap Top | Italy |
| CLHYNN | France |
| WattAnyWhere SA | Switzerland |
| SABI AGRI | France |
| Mold S.r.l. – The River Cleaning Project | Italy |
| Sealence Spa SB | Italy |
| HELIUP | France |
| X-Sun | France |
| D-ICE | France |
| Nosh.bio GmbH | Germany |
| GEMSTAR srl | Italy |
| Leviathan Dynamics | France |
| Synoxis algae | France |
| REOL | France |
| SAKOWIN GREEN ENERGY | France |
| WISAMO MICHELIN | France |
| AGLAÉ | France |
| Blue Ocean Upcycle Marine Boat | France |
| KIS Studio | Belgium |
| Green Impulse | France |
| Terroir from Space | Italy |
| ACT Blade Europe | Italy |
| Enerdrape | Switzerland |
| Space Farmers | Spain |
| Refact (Induo) | France |
| LATITUDO 40 | Italy |
| Ocean Blue Reef | Spain |
| CEDRION | Spain |
| Avenir Acier | France |
| Ecorbio | Cyprus |
| HEOLE | France |
| ISUSCHEM | Italy |
| Leaf Inspiring Change | Switzerland |
| Unik Innovation | Italy |
| Bysco | France |
| Flaxib | France |
| Pin Bike (FB Innovation) | Italy |
| Chrysalis (Earthwake Entreprise) | France |
| WaltR – [AI]Roads | France |
| OPTIMEESE™ (Mobileese) | France |
| BiomiTech | France |
| Revolte | France |
| Qairos Energies | France |
| Lisaqua | France |
| HySiLabs | France |
| Etsol Engineering | France |
| Food Index For Good | France |
| Healthy Brains for a Smart Planet | France |
| Kelvin Green GmbH | Germany |
| Syroco | France |
| Teti srl | Italy |
| VERNE | Poland |
| Smart Volt | Montenegro |
| Carbon Neutral Petrol Ltd | UK |
| Radium Energy Sp. z o. o. | Poland |
| Veos DigiWatt | Italy |
| Deagle srl | Italy |
| Snazzybird Ltd | UK |
| PHILEOLE | Belgium |
| Urban Tree Offset Initiative | Czech Republic (Czechia) |
| SEAVIS | Denmark |
| Hydros Power | Spain |
| Cilo | UK |
| Volvero | Italy |
| Tech4MED | Portugal |
| CO2NVERT | Italy |
| Life-Compolive | Spain |
| Beehold | Serbia |
| Iceless | Italy |
| Terra Innova | France |
| Fonto de Vivo | France |
| PrioV2X | France |
| ETESIAS | Italie |
| COOL ROOF France | France |
| MHT ARGE GIDA SAĞLIK DANIŞMANLIK SANAYİ VE TİCARET LİMİTED | Turquie |
| OTONOHM | France |
| Beyond The Sea | France |
| SYMONE | France |
| Emergence Solar | Suisse |